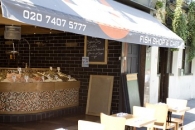 APPLEBEES FISH (BOROUGH MARKET)
5 Stoney Street
London
Greater London
England
United Kingdom
SE1 9AA
Opening Hours:
Open Tue to Fri [9.00am - 3.00pm] Sat [9.00am - 4.00pm] Closed Sun and Mon
General Info.
Applebee's Fish is a fishmongers providing the highest quality fresh fish for you to cook at home. Our fishmongers will prepare your purchase to your requirements.
No reviews posted for this monger yet.
Specials for APPLEBEES FISH (BOROUGH MARKET)