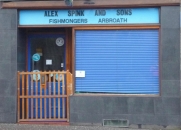 ALEX SPINK AND SONS (FISH MERCHANTS) BLAIRGOWRIE
3 Perth Street
Blairgowrie
Pethshire
Scotland
United Kingdom
PH10 6DQ
Opening Hours:
Open Tue to Sat [9.00am - 5.00pm]
General Info.
Specialising in making smokies in the traditional way over an oak-wood fire, Alex Spink & Sons sell fresh fish online, from their premises in Arbroath and also through their two retail outlets in Blairgowrie and Dundee.
The fresh product range extends from the well known, Whiting, Cod, Plaice, Haddock, Mackerel and Salmon to exotic's such as Seabass, Seabream, Tunafish, Swordfish, Baramundi and Pangsasius. The frozen products consist of a full range of Norwegian, Freshwater and Oriental Prawns. Other frozen products include frozen at sea Cod and Haddock, breaded and battered range of fillets, Shellfish, Smoked Fish and much more.
No reviews posted for this monger yet.
Specials for ALEX SPINK AND SONS (FISH MERCHANTS) BLAIRGOWRIE